Get ready to bust a gut, folks, because we're about to unleash the ultimate lineup of funny Mother's Day cards and gifts that'll have your mom rolling on the floor with laughter! Moms deserve a good chuckle, especially on their special day, and we've scoured the corners of the internet to compile the most side-splitting, giggle-inducing collection of presents and greetings.
Best Funny Mother's Day Cards
#1 NTKIO "I Would Punch Her Face" Greeting Card
Looking for a funny Mother's Day card that packs a punch? Bursting with sass and a touch of humor, this card is the perfect way to show your appreciation for the unbeatable mom in your life. 
#2 GIFT A GREEN Mother's Day Card
Get ready to sprout some smiles with this innovative and eco-friendly Microgreens Card! This vibrant card is not only a funny Mother's Day greeting card but also a grow-your-own organic microgreens kit, all wrapped up in one! Your mom will be reminded of you every time she catches a glimpse of her flourishing greens. So, ditch the ordinary and go green this Mother's Day!
#3 Huxters Funny Mother's Day Card for Mom
This clever, pandemic-inspired card will put a huge grin on your mom's face while reminding her of your endless affection. But that's not all! Made from top-notch, eco-friendly 350GSM paper, this Huxters card is FSC approved and comes in a compostable polybag, making it a carbon-neutral choice that shows love for both your mom and the environment.
#4 22CRAFT Pop Up Funny Mother's Day Card
Searching for funny Mother's Day cards that are equal parts adorable and hilarious? Get ready to fall in love with this delightful corgi pop-up card! Featuring a mischievous corgi flaunting its charming heart-shaped booty while holding a rose, this card is bound to make your mom's day extra special.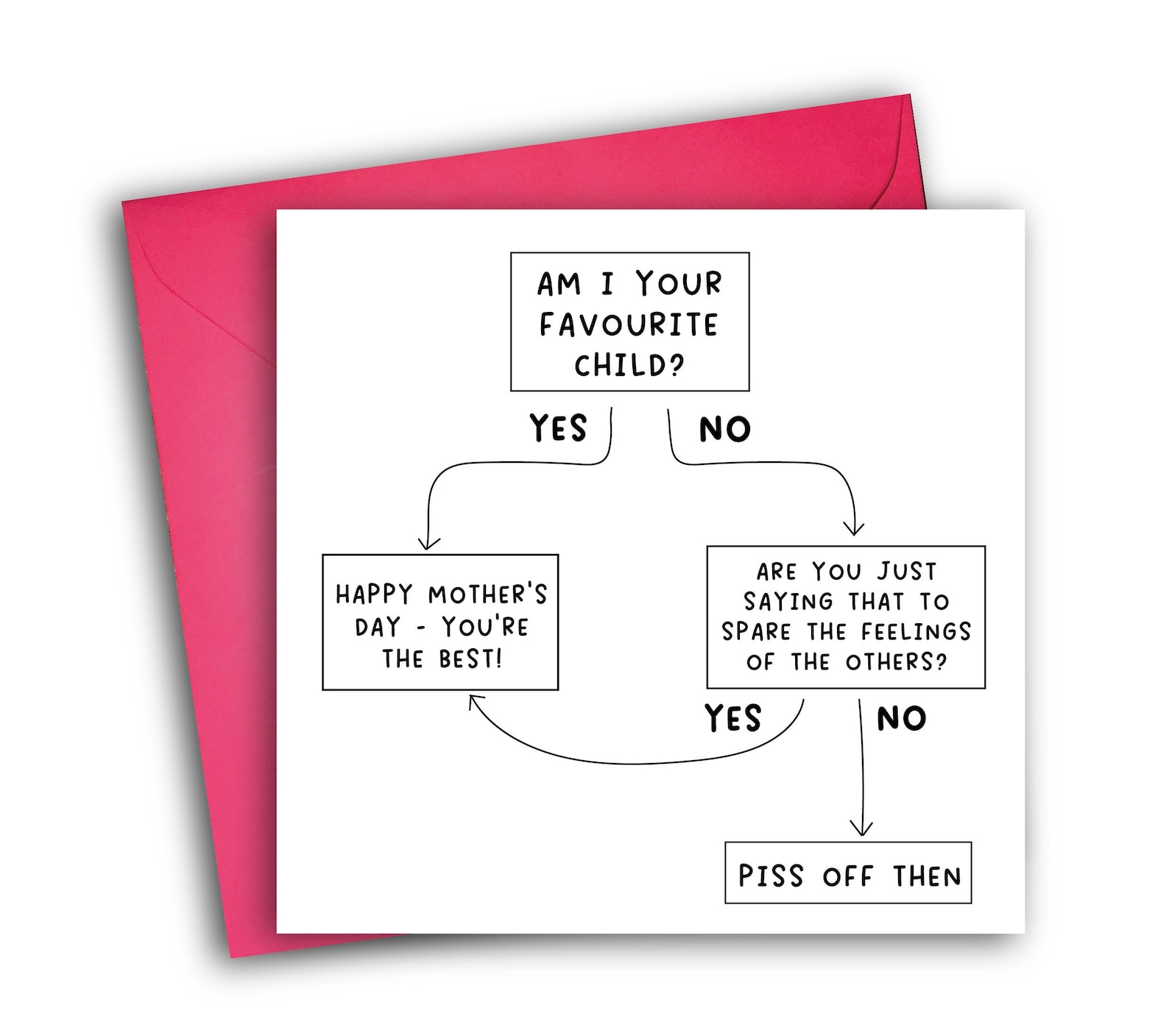 #5 PackAPunchDesigns Funny Mother's Day Card
Feast your eyes on this witty, high-quality hammered cardstock card, printed in the UK with British-style humor! This tastefully designed card is blank inside, giving you ample space to pour your heart out with a personal message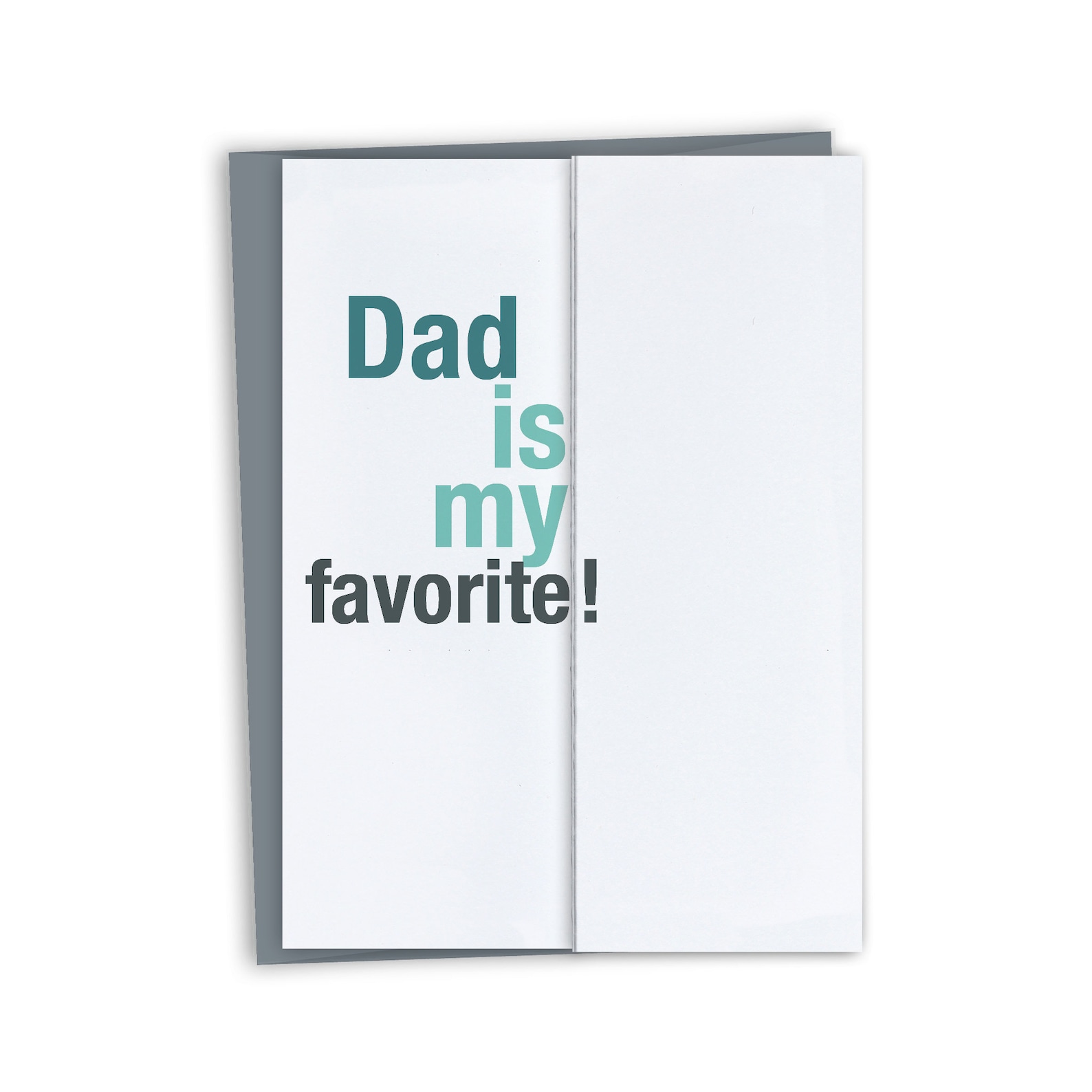 #6 FINCHandHARE Funny Mother's Day Card
At first glance, the card reads, "Dad is my favorite," but when fully unfolded, it reveals the true message: "Dad is okay, but if I had to choose my favorite, it'd be you. Happy Mother's Day!" This playful and unexpected twist will leave your mom laughing and feeling like a true superstar.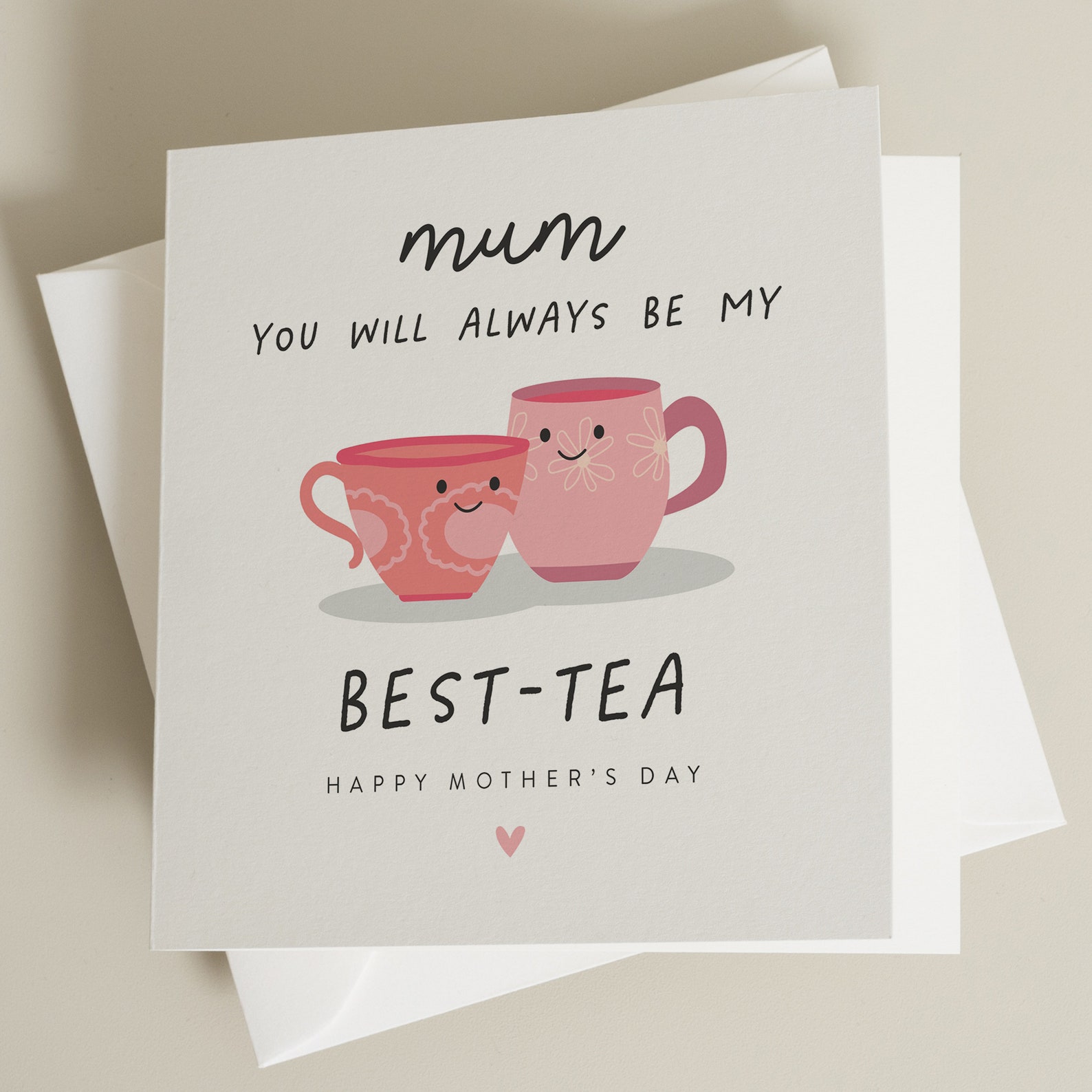 #7 TwistStationery Personalized Funny Mother's Day Card
Not only will this playful card bring a smile to her face, but it also reflects a commitment to the environment as it comes without plastic wrapping or a wax seal. Want to make it even more special? Customize it with your own words—simply enter your preferences in the personalization box during purchase.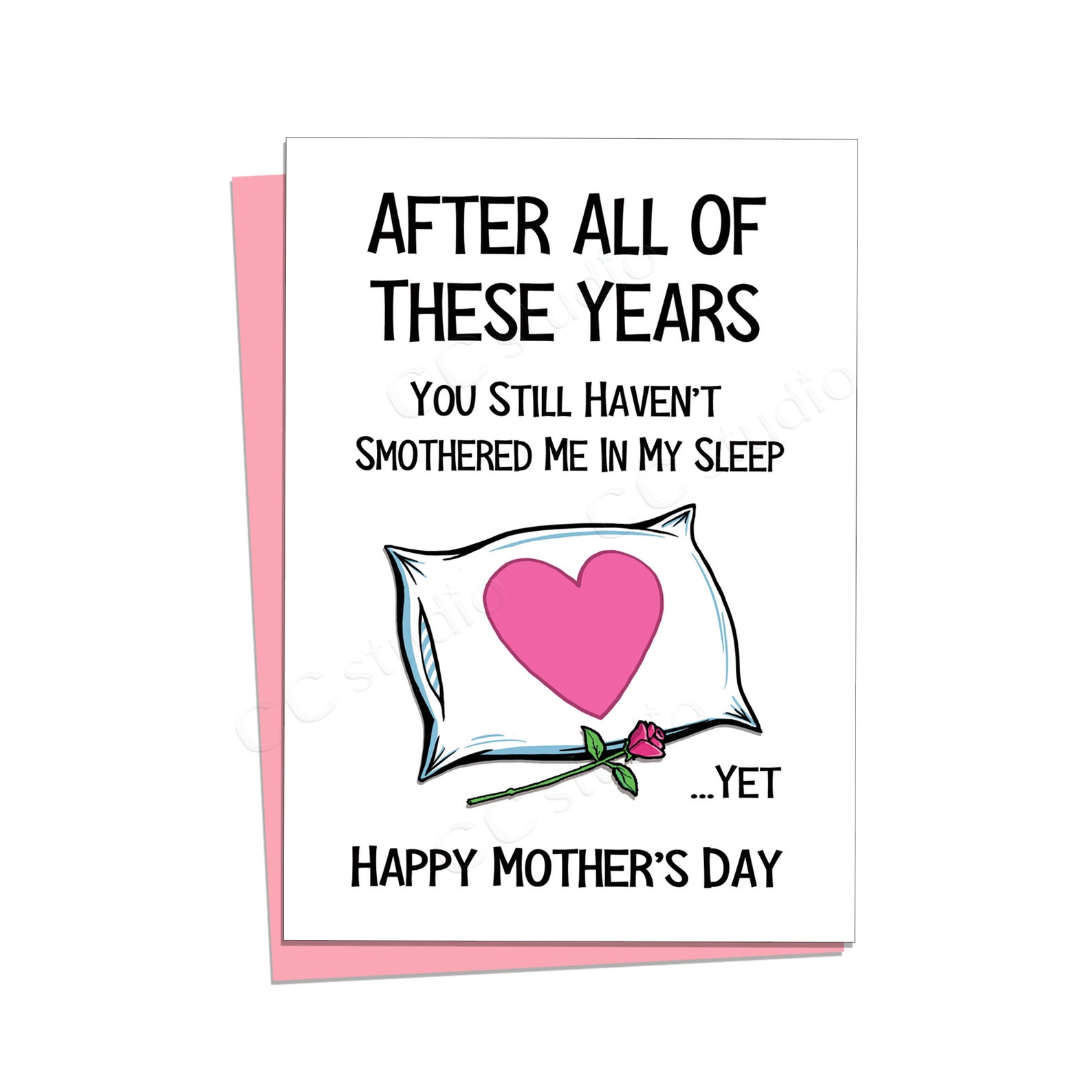 #8 CambridgeCirStudio Funny Mothers Day Card
This cheeky and charming card is just the ticket to add a hearty dose of laughter to your mom's special day.
In a hurry? Fear not! This hilarious card is available as an instant printable digital download here ($4.65), making it a breeze for you to purchase.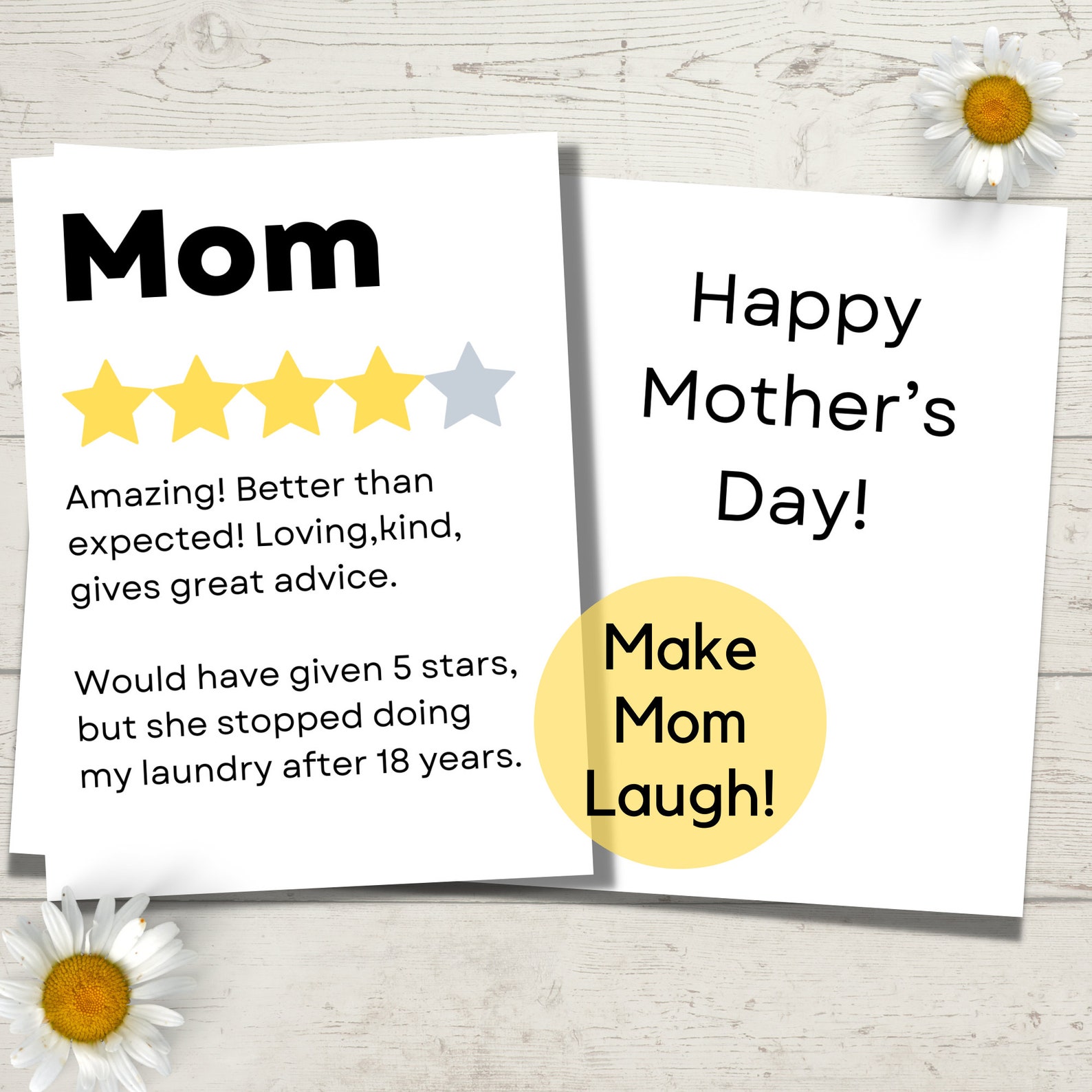 #9 MyWorldInOveralls Funny Mother's Day Card
With its unique design and playful spirit, this card is the ideal choice for moms who appreciate a good laugh.
The best part? It's a printable PDF instant download! Simply purchase, download, print, and enjoy the look of amusement on your mom's face as she reads her rave review. This Mother's Day, give your mom the gift of laughter with a card that's as fantastic as she is!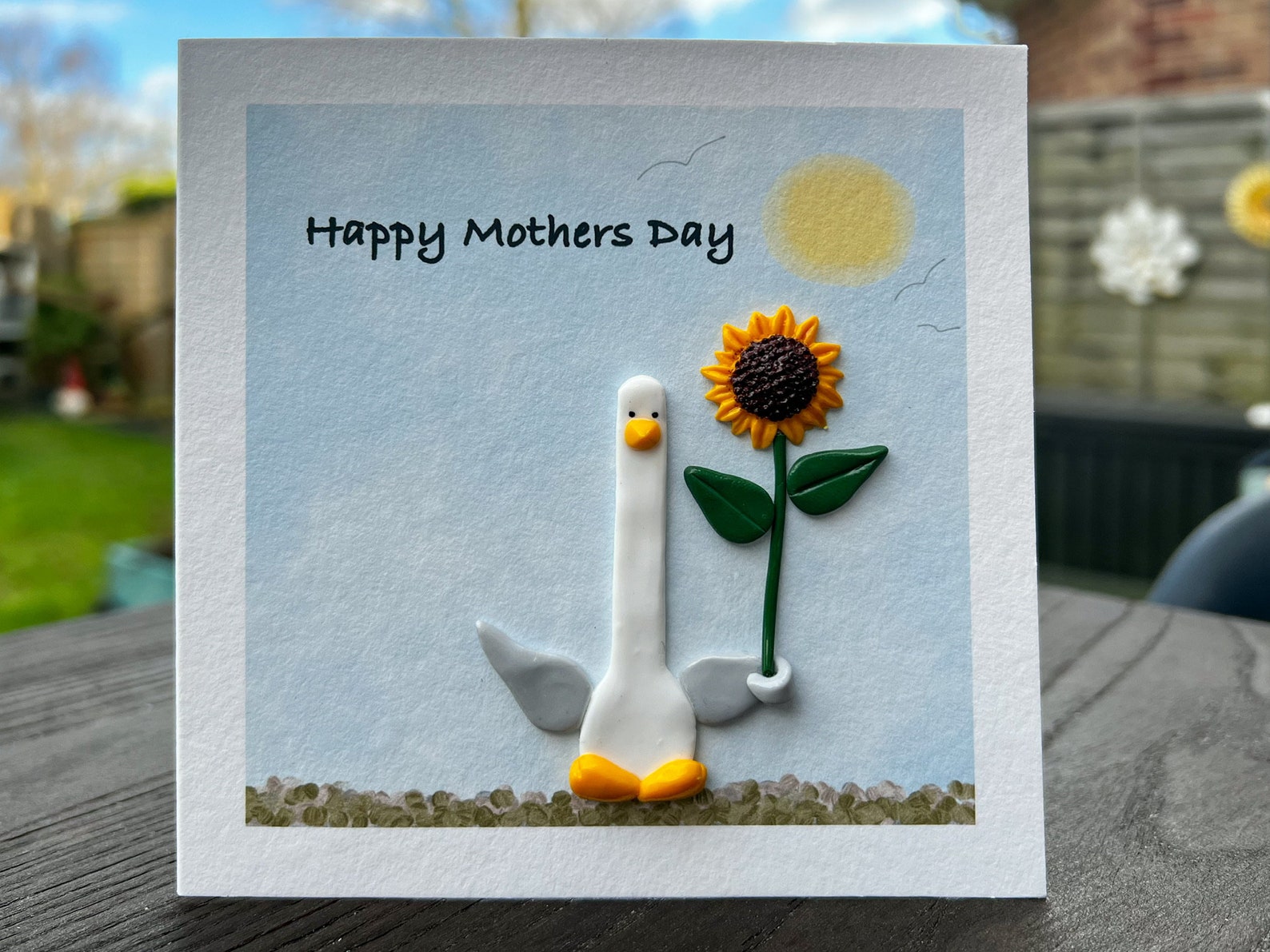 #10 Seagull Holding Sunflower Mother's Day Card
Check out this delightful handmade card featuring a clay seagull clutching a sunflower. With a background showcasing a print of the artist's hand-painted watercolor, this card is both adorable and distinctive, ensuring your mom receives a one-of-a-kind treasure. While the clay figure may show subtle signs of its creation, it only adds to the card's delightful uniqueness.
Best Funny Mother's Day Gifts
#1 Dimples Family Circle Fingerprint Necklace
This Mother's Day, gift your mom a unique and heartwarming accessory that'll make her chuckle while feeling the love from each and every one of her favorite people! This delightful piece allows your mom to keep her entire brood close to her heart—literally! With up to four fingerprints rendered in exquisite 3-dimensional detail, she'll feel as if her loved ones just pressed their fingers into the jewelry.
#2 Dimples Funny Mother's Day Artwork Charm
With this ingenious gift, your mom's cherished masterpieces won't fade away or become dog-eared over time. Instead, they'll be transformed into wearable art, thanks to technology. Draw a small cute picture to tell her what an outstanding mom she is!
#3 Solar Garden Moon Wind Chime
Treat the mom who seemingly has everything to this enchanting solar-powered Moon Wind Chime! This funny Mother's Day gift is not only a stunning piece of décor, but it's also a gentle reminder of your infinite love for her.
As the crystal ball moon charges during the day, it illuminates the night with a mesmerizing glow. The magic doesn't stop there – when hung indoors, the Moon Wind Chime casts captivating shadows on the walls, giving her a whimsical display to enjoy after dark.
#4 Americanflat White Family Tree with 12 Hanging Photos
Looking to tickle your mom's funny bone while celebrating your family's memories? Search no further than this whimsical Family Tree Picture Frame! This charming metal tree stand comes complete with 12 hanging white frames, perfect for showcasing your family's most cherished moments.
The rounded stand ensures stability on any tabletop or desktop, while the backboards keep photos in place, making it a breeze to load and secure your favorite memories.
#5 Neck Back Massager Pillow with Heat
This Back Massager with an ergonomic design is perfect for soothing her aches and pains while tickling her funny bone! Equipped with four massage nodes and advanced heating functionality, this back massager will work wonders on her tired muscles, melt away tension, and improve blood circulation.
#6 Personalized Family Tree of Life Birthstone Name Necklace
Imagine the delight on your mom or grandma's face when she receives a necklace adorned with the names and birthstones of her beloved family members. Not only will she be reminded of the hilarious moments and inside jokes shared over the years, but she'll also carry a constant reminder of her loved ones close to her heart.
Let the laughs and love flow with this enchanting and funny Mother's Day gift.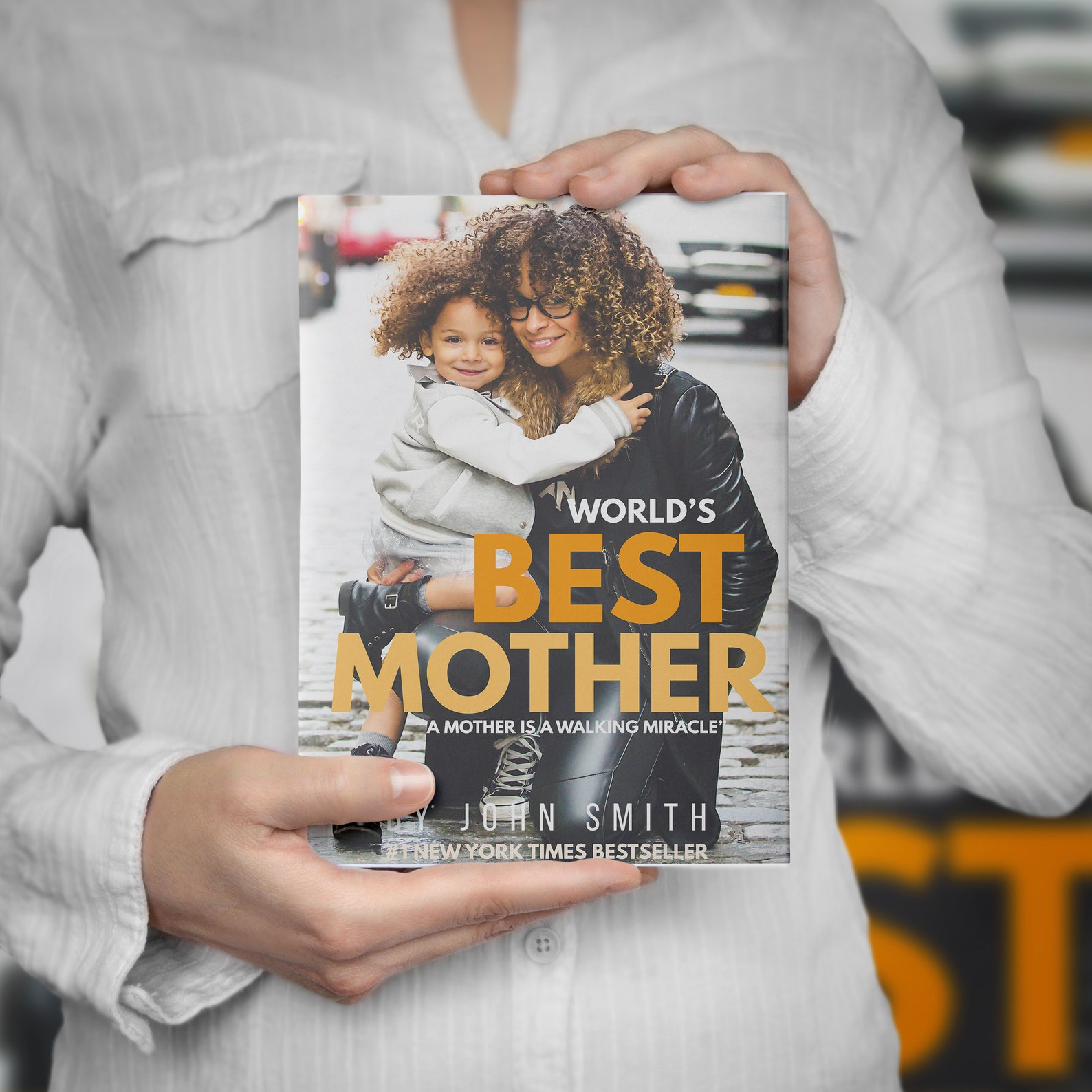 #7 "World's Best Mother" Personalized Fake Custom Book Cover
This Mother's Day, surprise your mom with a one-of-a-kind, amusing fake book cover that will not only bring a smile to her face but also serve as a unique keepsake she'll cherish for years to come.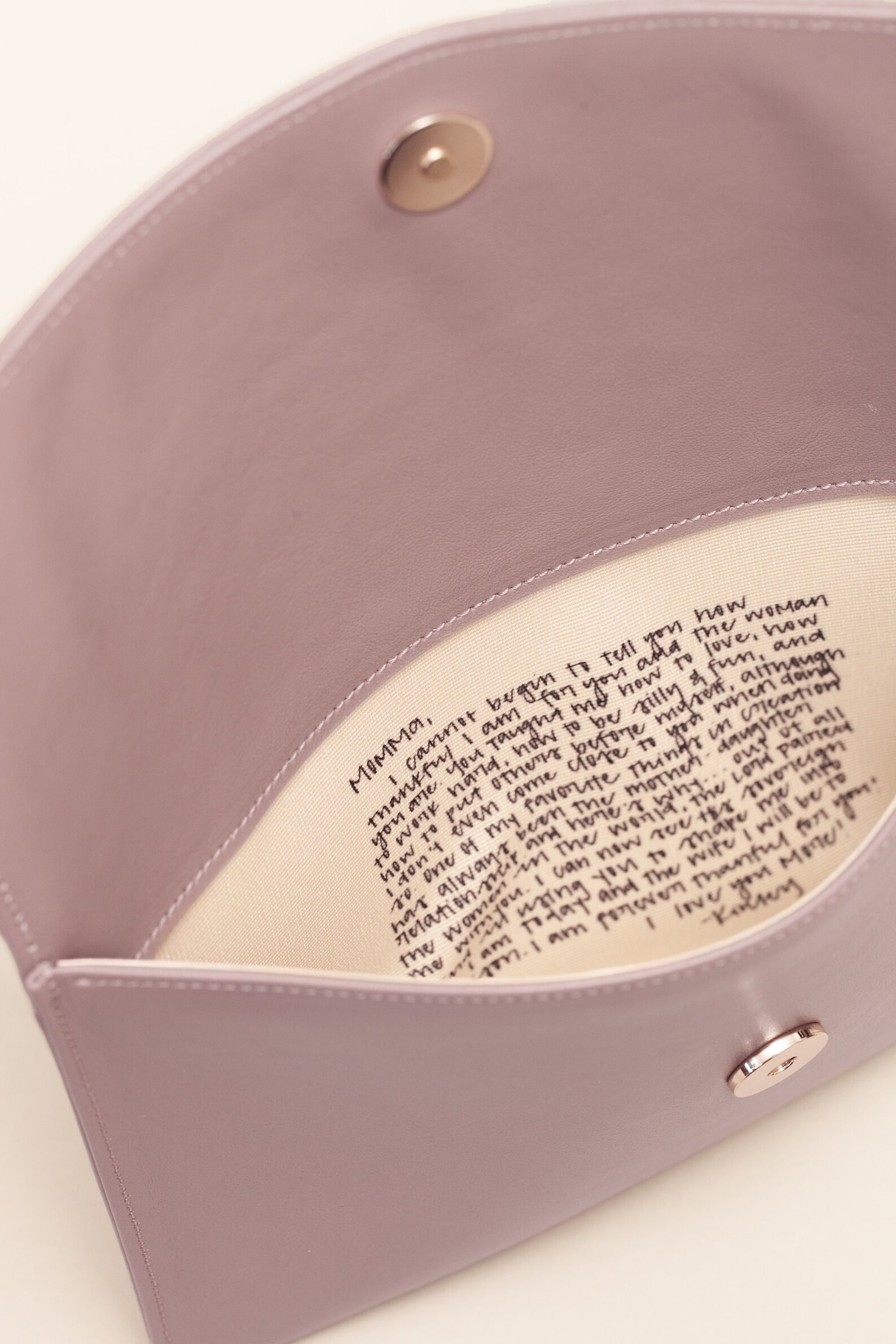 #8 Fontem Personalized Funny Mother's Day Gift
Feast your eyes on Emily Clutch, a top contender in the "funny Mother's Day gift" scene. With its hand-crafted design and luxurious Italian leather, this clutch is not only a fashion statement but also a heartfelt reminder of your love.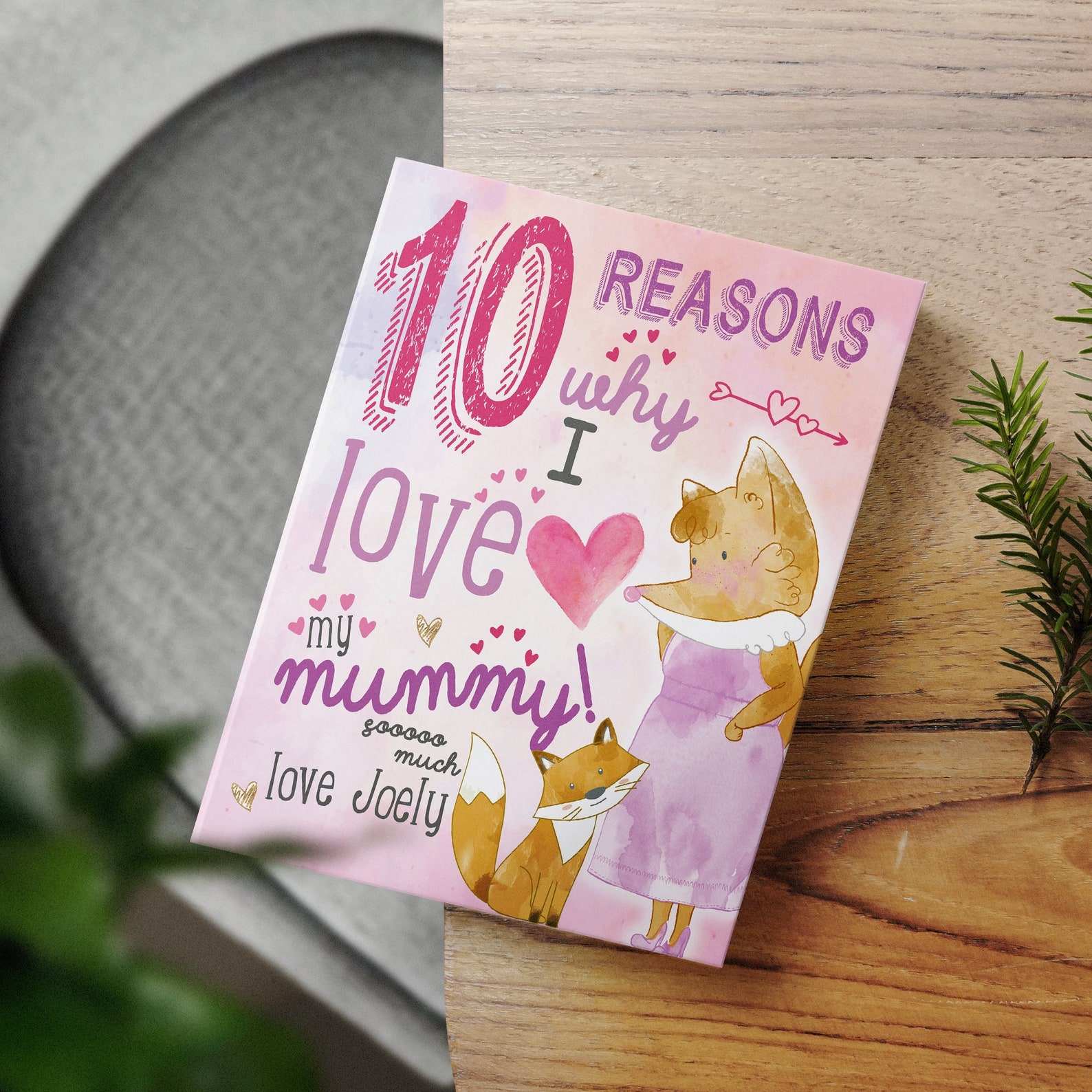 #9 Personalised "10 Things I love About Mummy" Book
Looking for a heartwarming and funny Mother's Day gift? This captivating book features vibrant, hand-drawn illustrations, personalized names, and characters, making it a truly unique keepsake that your mom will treasure for years to come. It's ideal for birthdays, Mother's Day, or simply as a thoughtful way to say "Thank You!"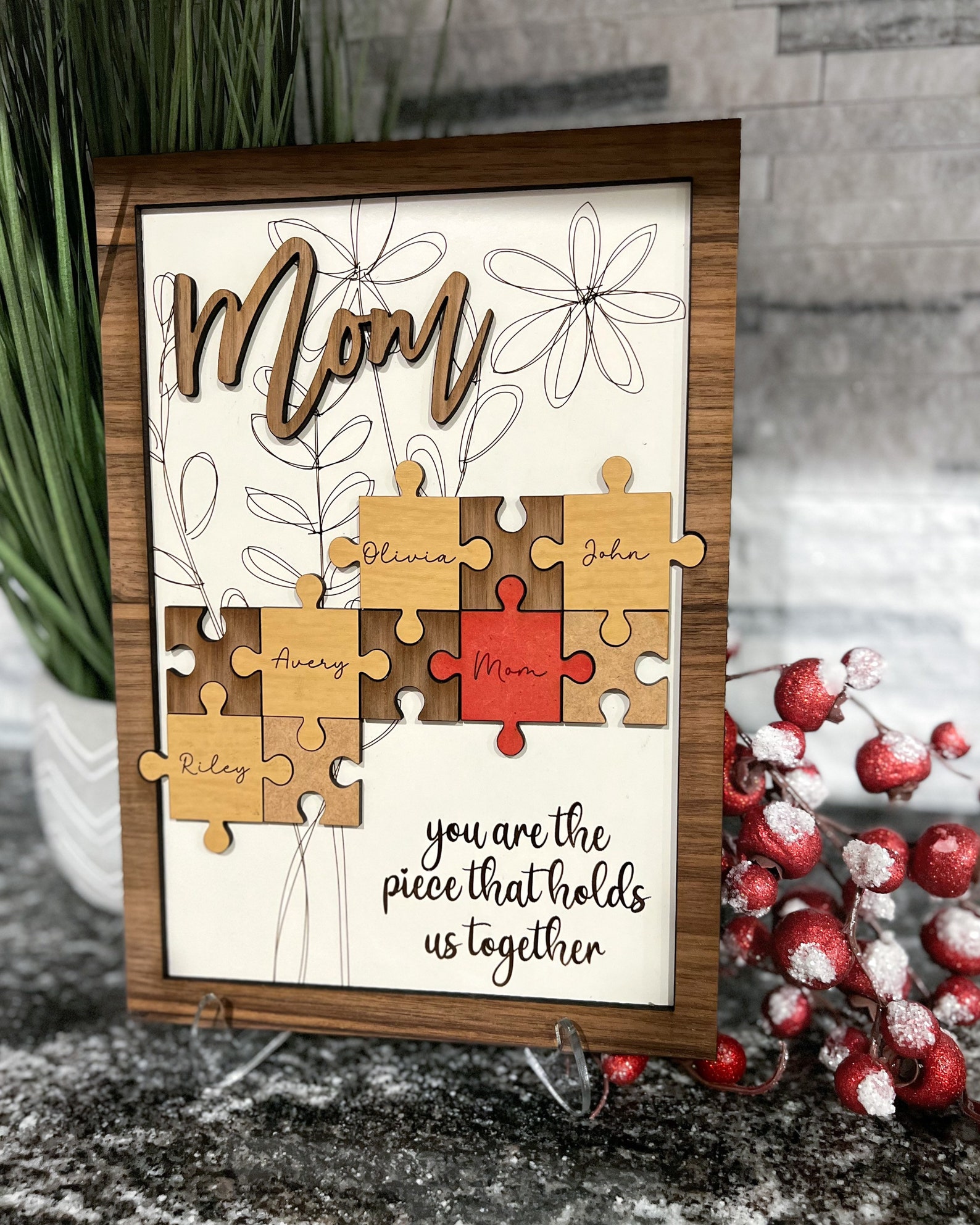 #10 Custom Mother's Day Puzzle Sign
This clever and customizable sign is crafted from high-quality materials. With the ability to personalize it with up to 7 names and swap out the word "Mom" for any title, you can tailor this gift to fit your family's unique dynamic perfectly.
Well, folks, there you have it – our ultimate list of funny Mother's Day cards and gifts! With these fab finds, you'll have your mom laughing out loud and thanking her lucky stars for having such a thoughtful, stylish, and creative gift-giver in her life. So, don't wait any longer – it's time to put the pedal to the metal and score the perfect present that'll have your mom reminiscing about this Mother's Day for years to come. Happy shopping, and may the gift-giving force be with you!
If you want more shopping suggestions and fashion ideas, welcome to our "Shopping Tips" and "Fashion Ideas" channels! Feel free to leave a comment if you have any questions or ideas about fashion ~ We are always here to exchange brilliant thoughts!