Recently, the Coquette Aesthetic trend has taken TikTok by storm, sweeping hearts and wardrobes off their feet. With its delightful mix of frills, lace, and pastels, it's no wonder everyone's head over heels for this enchanting style. Today, let's take a captivating journey through the Coquette aesthetic universe.
What is the Coquette Aesthetic
The Coquette Aesthetic is a broad term encompassing various sub-styles rooted in hyper-femininity, evoking a sense of youth and flirtation. This aesthetic emerged from the mid-2010s on Tumblr and has evolved into a multifaceted trend, admired predominantly by teenage girls.
As explained by Gen Z friends, the Coquette Aesthetic emphasizes a playful attitude, characterized by dainty, girly, and vintage elements such as ruffles and bows. It can be described as "girly-core with a mix of sultry old English elegance," blending elements of ballet core, lace blouses, and soft, silky fabrics.
Elements of Coquette Aesthetic
Fabrics like lace, silk, tulle, etc.
Victorian-inspired details, such as high-neck collars, puff sleeves, and intricate embroidery
Vintage Americana accessories, like glass Coca Cola bottles and retro cars
Girlycore goodness like heart-shaped jewelry, pearl accents, and delicate floral patterns
Balletcore stuffs like flowing skirts, leotards, and satin ribbons
Feminine footwear like kitten heels or dainty ballet flats
Coquette Aesthetic Photograph Wallpapers
Coquette Aesthetic in Movies and Music
The Coquette Aesthetic makes a splash in music and film. With its flirtatious charm and vintage sophistication, the coquette vibe has been captivating audiences for years, one delightful note and scene at a time.
Originally, Coquette Aesthetic drew parallels with the term "Nymphet", which references the character from Vladimir Nabokov's novel Lolita. However, it's crucial to acknowledge the divergence of the Coquette Aesthetic from its origins. The term "Coquette" now refers to a broader range of styles, with less focus on the sexual undertones, and a stronger emphasis on capturing the essence of girlishness and beauty.
Basic Instinct, with Sharon Stone as Catherine Tramell, is a prime example of the Vamp substyle of Coquette Aesthetic. The character combines beauty, mystery, seduction, and danger, which are intrinsic to the Vamp substyle.
In the Coquette Aesthetic, the Vamp substyle is very unique due to its seductive and mysterious side. The fashion includes evening gowns, cocktail dresses, furs, and killer heels. The style exudes confidence and allure.
Directed by Sofia Coppola, this movie captures the coquette aesthetic through the character of Marie Antoinette. The film showcases hyper-femininity and delicate fashion, similar to the Pinterest Coquette substyle.
Pinterest Coquette mainly prevails in TikTok and Pinterest, featuring delicate, vintage-inspired clothing with floral patterns and light colors.
The Marvelous Mrs. Maisel (2017-2023)
Set in the 1950s and 1960s, this show captures the Vintage Americana aspect of the coquette aesthetic. The protagonist's wardrobe, along with the depiction of the American Dream, align with this aesthetic.
Vintage Americana is characterized by nostalgia for mid-century America (1950s-1980s). The style is feminine and often uses red, white, and blue colors. It includes vintage dresses, retro cars, and some things that can evoke a sense of patriotic pride.
Chazlyn Yvonne: A Coquette Aesthetic Influencer
Chazlyn Yvonne, a college blogger, influencer, and coquette aficionado, is making waves in Coquette Aesthetics by raising awareness about the lack of diversity within this style. She highlights the need for greater representation in the coquette community, which non-BIPOC individuals primarily dominate.
Yvonne passionately expresses her concern regarding the homogeneity of the aesthetic, "When you go on Pinterest and type 'coquette aesthetic,' you will only see one type of person." Recognizing this gap in representation, Chazlyn and several other Black creators have taken it upon themselves to create a more inclusive online space.
Coquette Aesthetic Clothing Brands
This dreamy brand is more like a Pinterest Coquette's style. It features an array of ruffled dresses, lace accents, and delicate floral prints that capture the essence of whimsical romance.
With their sultry lace designs, For Love & Lemons offers a stunning collection of pieces perfect for the modern coquette.
Founded by French It-girl Jeanne Damas, Rouje captures the essence of Parisian chic with its vintage dresses and charming accessories that will delight any coquette aficionado.
Recommended Products on Amazon and Etsy
WDIRARA Women's Deep V Neck Puff Sleeve Dress
Made of 100% polyester, this dress is lightweight and comfy. The deep v-neck, puff sleeves, and elastic waist create a flattering look, perfect for casual days, parties, or club nights. Make an impact wherever you are!
Scarlet Darkness Women's Sundress Summer Vintage Midi Dress
The dress sports an eye-catching vintage floral pattern, adjustable spaghetti straps, and a lace-up front, giving you that elegant and charming vibe. High-waist, left zipper, and A-line shape? Check, check, and check! Plus, it's got pockets – because we all need a place to stash our secret love letters.
Lemai Tulle Gothic Black Lace Short Dress
Get ready to twirl like a princess in the Scarlet Darkness Women's Sundress – your go-to choice for a summer stunner! This tulle dress features a sweetheart neckline and a simple knee-length skirt that will make you feel like dancing in the sunshine. Elegant lace with pleats and a corset back add a touch of class, and guess what? Plus sizes are available too!
WaterDress Women's Two-Piece Prom Dress
This 100% handmade, imported beauty features a sheer lace top sprinkled with rhinestone magic. The full skirt boasts a side leg slit, pockets (score!), and a lightweight satin lining for extra glam. Oh, and did we mention the back zipper closure? Easy peasy!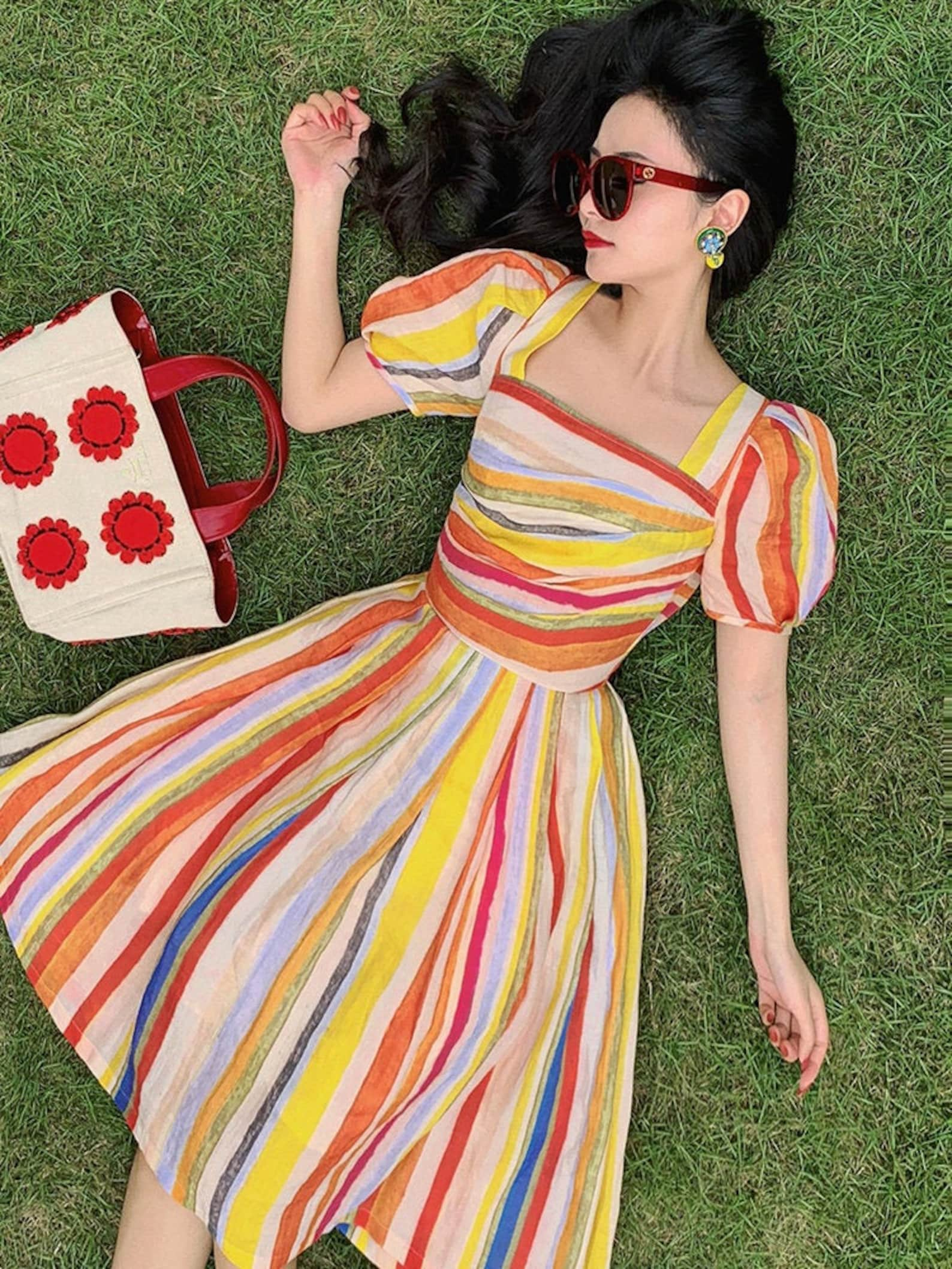 Mr. Water Rainbow Summer Midi Dress
This handmade masterpiece is a French Country Style dream, perfect for all your sunny adventures, parties, or vacay shenanigans.
Made of a cotton mix and recycled polyester, this eco-friendly frock screams "rainbow vibes!" Its fresh, vibrant colors will have you feeling like a walking rainbow – and who wouldn't want that? The chest's irregular folds add a unique touch, making you stand out from the crowd.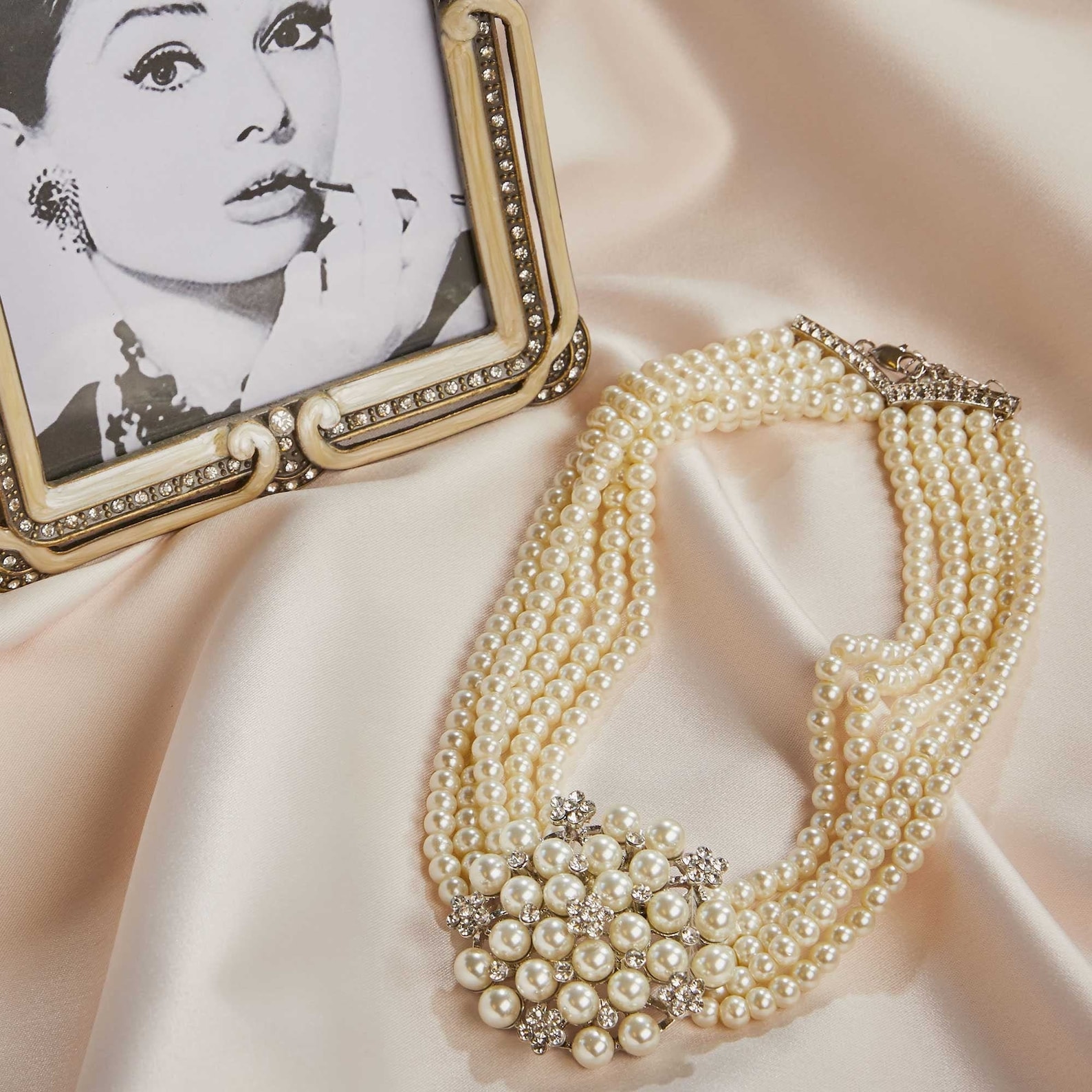 Audrey Hepburn Inspired Pearl Necklace
This elegant, handmade 5-row glass pearl vintage choker is the perfect accessory for any stylish queen who wants to bring some Hollywood glamour to their life.
This divine necklace features a gorgeous pearl and diamante pendant, inspired by the iconic Breakfast at Tiffany's. Talk about timeless elegance! Plus, it's hypoallergenic and nickel-free, making it a total catch for anyone with sensitive skin.